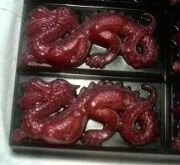 The dragon is scented with English Rose, the body of the bar is Dragon's Blood (what else)?
I want to do at least one more batch of these, but I'm torn on combo. I'll be going with either green dragons (in Moroccan Mint) on dark chocolate backgrounds (scented to match) or white dragons (in Jasmine Dreams) on bronze background (in Nag Champa.)
Of course, since I have more base on the way, I might do both... but I want to make sure I have homes for them first.
I need to go through my molds sometime soon and start figuring colors and scents.

Yep, got some more martians done too. This time, colored with green ultramarine/super pearly white mica and scented with Grass Stain (yes, it smells
just
like a freshly mowed lawn. YUM!)